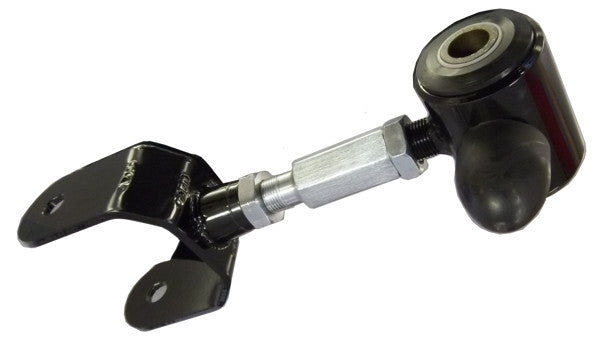 CHE Performance
Double Adjustable Street/Strip Rear Upper Control Arm Part # CHE2R for 2011-2014 Mustang
---
Mustang GT 5.0L: 2011, 2012, 2013, 2014
Mustang V6 3.7L: 2011, 2012, 2013, 2014
Mustang Boss 302: 2011, 2012, 2013, 2014
Mustang SVT Shelby GT500: 2011, 2012, 2013, 2014
Direct bolt-in for the 2011-2014 Mustang Rear Upper Control Arm. The rear upper control arm and upper control arm mount were changed by Ford in the 2011 model Year. Our 2011 Mustang Double Adjustable Rear Upper Control Arm will replace the stock upper in the stock location using the stock hardware.
The CHE Performance Double Adjustable Street/Strip Upper Control Arm is designed to handle the rigors of high horsepower vehicles while maintaining street friendly performance. Double adjustable design allows on the car adjustment of pinion angle.
Fits both V8 & V6 models.
3/16" Thick Gusseted axle side mount for strength
Includes Polyurethane pinion snubber
Features our unique Polyurethane/Delrin bushings for stable, squeak free, performance
Unique Delrin/Polyurethane bushings eliminate the need for grease fittings
Made in the USA with the highest quality components
Dramatic improvement over the factory pieces
Eliminates the twisting and distortion of the stock control arm
Allows greatly improved launches
Improves stability at higher speeds
Controls axle windup for more consistent 60ft times
Powder coated and Plated finish for durability
Bolt-in swap for the stock piece
Must re-use factory hardware
---
Share this Product
---
More from this collection